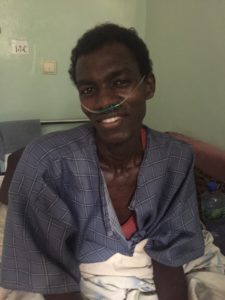 For almost six months, Kefyalow has been receiving care at our hospital. Barely in his 30's, this nine-year veteran of the gold mines in the Sidamo Region was brought to Soddo Christian Hospital by his family because he was struggling to breathe. Even though Kefyalow's family had long ago depleted their meager resources obtaining health care in his hometown of Humbo, 25 km from Soddo, it was torture watching their loved one cough and slowly suffocate at home. Desperate for help, praying for relief, they brought him to us.
Unfortunately, Kefyalow has silicosis, an irreversible lung disease caused by the inhalation of silica.  One of the nicknames of this condition is "Miner's TB." His lungs are so severely scarred from inhaling particulates of this toxic mineral that he cannot breathe without intranasal oxygen. We've tried. He's tried. But the verdict is clear – Kefyalow must have supplemental oxygen to live.
Kefyalow is young. He has a wife. He has a daughter, age 5, and a son, age 1. Every day he is in the hospital, he is separated from the people who love him and need him the most. He may have a terminal disease, but he has a lot of living and loving and teaching left to do. He longs to be at home, but his life is tethered to a 130-lb oxygen cylinder next to his bed at the hospital.
But there's a solution! You can partner with us to purchase a portable oxygen concentrator and generator for Kefyalow's use at home. The total cost is $3,000. If you would like to help this young father return home to his family, then please make a contribution to our Patient Care Fund today.
Kefyalow says "Thank you and may God bless you."