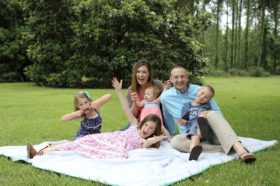 They call their ministry at Soddo Christian Hospital, A Peace of Our Life, because "Jesus is our peace, and He is the one putting together the pieces of our lives to make a beautiful picture. He is the masterful artist and thoughtful storyteller. He is the One articulating the many facets of our lives and putting them together to shine brightly for Him."
The Hodges family arrived in Soddo in August 2017, where Brian will be daily using his skill as an orthopedic surgeon to serve the people of Soddo, Ethiopia. As part of the Samaritan's Purse World Medical Mission Post-Residency Program, Brian will be working alongside, as well as be mentored by, Dr. Duane Anderson. Autumn will continue to homeschool and care for Elisabeth, Abigail, John, and Alexandria (Lexi) on a daily basis. Together they are serving at Soddo Christian Hospital and in the community of Soddo as the Lord leads. 
Brian and Autumn will be returning to the US with their family in April 2019, where Brian will begin working on the Orthopedic Board qualification. We will miss them greatly at Soddo.
Visit Hodges' Website, a peace of our life