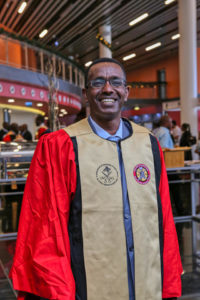 Dr. Gezahegn is a PAACS general surgery faculty member.  Prior to his time at SCH, he graduated from Addis Ababa University in 2001.  From there he served his General Practitioner years in a rural hospital.  At that time, he served as the Medical Director as well.  Through the Lord's calling he moved to Soddo with his wife and children to pursue PAACS.  He was a general practitioner at SCH first and was the Medical Director for a short time as well.  He then began his training in general surgery and graduated with distinction in 2018.  Of note, he received the honor for the best general surgery board score for COSECSA, a conglomerate of 14 countries that accredit our general surgeons.
Dr. Gezahegn is uniformly respected by the SCH national and international staff.  He is known for his patience, compassion, and wisdom.  He has been a fantastic partner, especially in light of Dr. Andrew's departure.  He is also uniquely qualified for this position as he is the longest serving Ethiopian physician on campus.
On a personal note, Gezahegn is a wonderful follower of Christ.