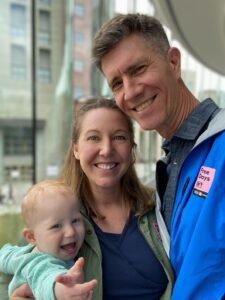 Individually, both Jason and Ellisa have felt called to overseas work throughout their lives. Jason has lived and worked in Honduras and Haiti, both for several years, and Ellisa has done numerous medical trips to multiple countries in Africa. Now together, they have dreamed of a place they could serve as a couple, and Soddo has answered that prayer.
Ellisa:  attended Westmont College where she obtained a BS in Neuroscience and Biology. She then attended ETSU Quillen College of Medicine where she obtained her MD degree in 2006. She attended residency at MUSC/Trident Family Medicine Residency. After graduation of residency, she worked for Christ Community Health Services, a faith based FQHC in Memphis, TN, for several years, helping start a family medicine residency. She then went on to JPS Family Medicine Residency in Fort Worth, TX to become faculty in the FP-OB Fellowship department, called Maternal-Child Health. She eventually became the Medical Director of the MCH fellowship at JPS. She has participated in over 15 medical mission trips, learning some of what it means to practice in resource limited settings. She feels called to continue educating and teaching, while providing excellent medical care to women and infants.
Jason's bio:  Since earning his Bachelor of Architecture at the University of Texas at Austin, Jason has worked on a variety of project types in many different locations.  Of these, the most noteworthy were the opportunities to live and work on projects in both Honduras and Haiti.  He first collaborated with
MSAADA
in 2004 and is passionate about designing buildings used for ministries that heal, teach, and preach the Gospel, especially in the developing world and in locations where the marginalized are served..  Please contact him to learn more.  He'd love to tell you more of his story over a cup of coffee.