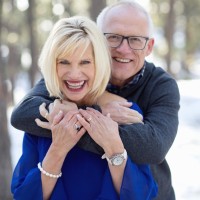 For over 36 years, Steve served as a Lead Pastor in churches that we're intentionally focused on the Great Commission. Since the beginning of his ministry, Steve has felt a strong calling to inspire and unleash the Body of Christ to pursue the mission of Jesus. Whether he's preaching in front of a crowd, or conversing one-on-one, his passion is to see God's people come alive to God's purpose.
As the son and grandson of missionaries, Steve has spent much of his life living overseas. Early in his career, Steve served in Sudan as the pastor of the Khartoum International Church. He has more than 25 years of mission board experience with SIM, Wycliffe Bible Translators, and Global Refuge. He has also served as the President of a global mission agency focused on media and media ministries. Together with his bride, Becky, Steve has ministered to missionaries, pastors, and ministry supporters in over 65 countries.
While new to St. Luke's Health Care Foundation, Steve fully shares the mission and vision of medical ministry in Africa. When he was first introduced to the ministry of Soddo Christian Hospital, Steve was drawn to the hospital's unique approach of combining medical care, discipleship, and surgical resident training.  As Steve puts it: "Soddo Christian Hospital is one of the most impactful ministries I've ever seen. Souls and lives are being saved every day! I'm excited to see what God has in store for the future and I'm eager to build on the foundation of the prayerful leaders who've gone before me."
Steve is married to Becky, a best-selling author and popular speaker. When not on the road, speaking in churches or pastoring ministry leaders, Steve and Becky make their home in Colorado Springs, where they love hanging out with their four adult children and 14 grands!