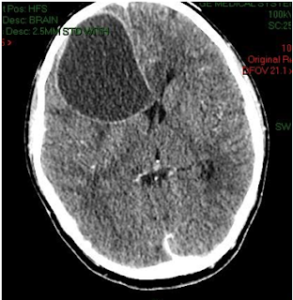 Dr Michelle Yates writes:
"Sometimes we have those days or experiences that drastically change the way we think of life. Sometimes I'm aware enough to realize it, and other days I'm too dense to see what is right in front of me. An encounter with a special family has rocked my faith and my medical world view.
This story has two unique parts, the medical amazement and the personal story. As a human being we cannot disconnect the two, but let me tell it as it was revealed to me.
A 12-year-old boy from a rural area of Ethiopia (12-15 hours transport to get to Soddo) arrives nearly comatose, unable to sit, unable to move his entire right side, unable to eat, barely able to speak. He had a fever and a rigid neck. He had signs of increased pressure in his brain.  I couldn't do a lumbar puncture to confirm my suspicion of meningitis and our CT scanner, the only within 3 hour drive, was not working. He had already been on IV antibiotics for 2 weeks and didn't get any better. His father, in desperation, brought him to our hospital traveling 2 days on a bus. I changed his antibiotics, gave him some steroids, waited for our CT scanner to be fixed and prayed. I treated him for a possible brain abscess, a complication of meningitis, but knew the entire time it could all be from aggressive cancer. Problems with import paperwork kept our CT scanner down for another 10 days.
He got a little better with medications, but I still wasn't sure exactly what I was treating. When I finally got the CT scan of his head, we saw the very large brain abscess. It was the biggest I had ever seen. I tried to convince the dad to go see the neurosurgeon many hours away, but he said he could not, he had used all the money he had to get him to our hospital. So I discussed the case with our general surgery team, and they thought they could try to place a drain into the brain through a hole drilled in the skull to remove the infection and give the medicine a chance to work. By the grace of God, the procedure was a success and with no complication the infectious abscess was all drained! What a miracle. We continued his IV antibiotics for another 6 weeks and all his symptoms were gone, except a little bit of scarring in his eye. It was such a blessing to be a part of his recovery. The family is very poor and his hospital care was paid for by our benevolence fund supplied by generous donations. Without this financial support, this boy would have died.
But this is only half the story. I heard little bits here and there throughout his hospital stay, but the day before discharge we gathered to give this boy a going away party with Coke and popcorn and cookies. Our staff needs to celebrate the wins in our department. As in any good Ethiopian party, there were lots of speeches. The dad thanked our pediatric team for our care and went on to tell his story from his perspective.
He tells us that his son is the light of his life. 12 years ago, when he was 1 month old, his mother died suddenly and tragically. This single event earned this boy the title gefee, "the child that pushed his mother out" or more bluntly, "the mother killer". In his culture, these children are often hated by the family, and sometimes in certain areas killed and buried with their mother. Despite this title of hatred given him at only 1 month of age, his father loved him. Because of his love for his son, this father was outcast from his family and his town. He had just lost his wife, and now had lost his community. He had to live on the edge of town and scrape by to get him enough food for him and his infant son because formula milk and cow's milk is very expensive. The dad told us that this young boy barely left his side for years because others around him would give him a difficult time. Against cultural stigma and grief, this dad loved and protected his child.
In the middle of his speech, this father falls to his knees and cries out asking God for forgiveness, forgiveness for his unbelief. He tells us that after a few days in the hospital, he went to our hospital bathrooms and wept. He has no money. His treasured son is so sick. He has lost everything to have this boy, and now he has used the last of his savings for nothing. He will have to carry home a dead body. He was asking God where he would get the money to pay for the transport of the dead body home. He tells us that God called back to him and told him to stand up and to come to his throne of grace, undeserved grace. He tells us that it was that day (7 weeks before) we placed his son on our benevolence fund and now his son is walking home. He cried out again to thank God for his mercy and grace and asked once again for forgiveness for his lack of faith that God could heal his son and give him all the money he needed.
As I listened to his story, I was simply struck by the extreme hardship faced by this young boy and his family. I was so thankful that we could love him well at our hospital. Simply put, This is why we are here. I was also convicted. How often do I ask God for miraculous healing of my patients, myself, my friends or family? Do I repent when I lack faith for his healing touch? How often do I forget to trust God to cover all my financial needs? Do I cry out to Him when I feel I am at the end of my capacity? Do I truly believe that he will give everything he promises?
Because of this father and son I am forever changed.