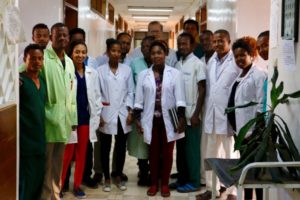 One of our recent visiting residents wrote about his week at Soddo Christian Hospital this summary of his visit:
"We do what we can"
It takes a huge team to care for patients here.  This picture is of the multidisciplinary team that makes orthopedic rounds each day.  They do a wonderful job in very challenging situations. Our staff every day confront medical needs that challenge both their medical skills and their emotional fortitude. The orthopedic surgery resident from UCLA just finishing his week-long surgical rotation at Soddo summarizes his experience below.
"It's been a tough week here.  There are so many people that come to Soddo Christian Hospital from all over the eastern part of Africa and Ethiopia, and there are only so many resources and only so much time in a day to help people.  There is such an inundation of trauma from road traffic accidents, and [so many] infections [because of] people waiting to see physicians or travelling for days to come to this hospital, that the operating room is reserved for the [most] serious of emergencies.  Emergencies that would be deemed emergencies in the United States are true emergencies here, too, but the timing of treating them is delayed, with a certain amount of triage that [must occur].  For example, hip fractures are generally treated within 24-48 hours to reduce morbidity and complications from immobility and pain.  [But] we've had a patient in the hospital who has had a hip fracture for 2 months, who arrived last week.  He's in need of hip implants, which are coming, but are waiting at customs in Addis Ababa.  They should arrive next week.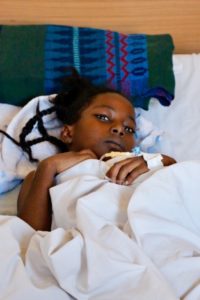 "It's hard to see patients in clinic who have real problems that are solvable with the right resources: osteoarthritis treated with knee or hip replacements, ACL or PCL injuries treated with arthroscopic reconstructions, or even basic fractures like tibias, femurs, forearms or elbows.  Many are treated in a delayed fashion because of the need to take care of infections or open fractures. [See the two children pictured.]   Many emergency patients sleep in the yard of the hospital waiting for a bed.  It's heart-wrenching to see children who can't walk because of neglected, infected hips that have destroyed the joint, or complications from things like TB and polio, which are so rare in the US.
"Over the past week, we've had some complex cases.  As a team, we were able to perform 2 complex pelvic operations; a scapula/glenoid fracture was fixed, as well as multiple open femur and tibia fractures, along with a few pediatric fractures due to traffic accidents.  Additionally, we had a couple of patients with multiple knee ligament injuries.  Given my interest in sports medicine, and the presence of an arthroscopy tower in the OR (one of the few in the country), Dr. Anderson challenged me to take care of a couple of the knee ligament injuries and expose the Ethiopian residents to arthroscopy.  I quickly realized that arthroscopic surgery here would be extremely challenging: the language barrier, the power goes out frequently, [and] the staff is used to dealing with trauma [injuries so] all [the] arthroscopic instruments are new [to them]. Additionally, these injuries were difficult as multiple ligaments were injured, and we would be reconstructing multiple ligaments at a time.  [Seeing my hesitation], Dr. Anderson motivated me by explaining that we were likely the only people in Ethiopia who had the equipment and the ability to treat these injuries.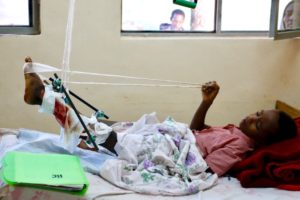 "[W]e ran 4 operating rooms at the same time.  One Ethiopian resident took consults in the Emergency Room, one Ethiopian resident operated on infections and long bone fractures, Dr. Anderson and another Ethiopian resident fixed a complex pelvic fracture, and the fourth Ethiopian resident helped me with [the] arthroscopic PCL reconstruction and used the fluoroscope machine to fix a complex tibia fracture. We all made it through. And when we were done, the knee felt stable, the pelvis was fixed, and 8 other infected bones and fractures were clean and fixed.  It was a tough, long day, but in retrospect, we accomplished a lot as a team.
"As I reflect on my last day operating here, I think there's a bright outlook for this country.   I'm encouraged that I helped expose the Ethiopian residents to arthroscopic surgery.  I feel grateful to see that [my supervising doctors] have trained me to perform these cases independently.  Lastly, I was very impressed with the Ethiopian residents.  They are smart and extremely well read.  Dr. Anderson's knowledge and ability is impressive. Soddo Christian Hospital's resources, though limited compared to the USA, provide an orthopedic mecca for the Ethiopian residents here.  I'm hopeful that the partnership with UCLA/OIC can continue to bring US residents with different interests to Ethiopia where we can learn from Dr. Anderson and the residents—and give back however we can."