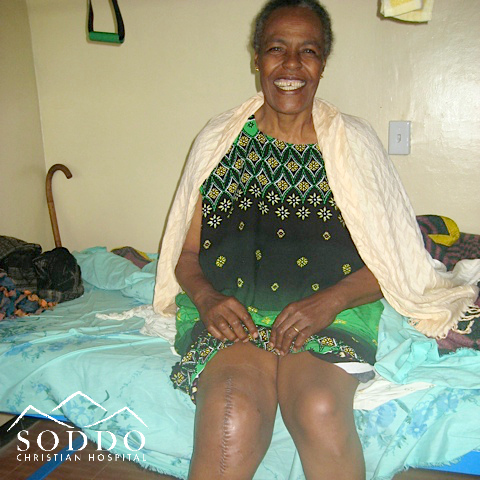 This is  sweet Birhana from the Jinka area; which is located near the Kenya border. She has endured 14 years of pain. Birhana came to Soddo Christian Hospital 3 years ago and was told she needed a new knee, but at that time a total joint replacement was not an option here at SCH, and the replacement parts she needed were not available anywhere in Ethiopia.
This week Dr. Clint Barnett from Texas arrived at our hospital and 18 knees were completely replaced. 3 men and 15 women were given the opportunity to have a life without pain, (something so many of us take for granted).  These knees were done using total joint replacements. Birhana  was among those so happy to be called this week to come and receive a new knee!! She could barely contain her joy, as she smiled and laughed.  "Now I will kick a football," she laughed as she moved her new knee. "I love you and Soddo Christian Hospital."
Birhana shared at Soddo Christian Hospital chapel, her joy and thankfulness shining so bright. Dr. Clint Barnett shared, "These are just replacement parts, made  by man, and of metal, not made of bone. They give the opportunity at a better life, one without pain and with more physical capabilities. However God longs to have our hearts, to heal our hearts, and more important than having a new knee, is knowing that you have eternal life." God is doing beautiful things here at SCH, both through physical healing and through spiritual salvation. All the glory is His, He is mighty to heal, mighty to save!!
Fun fact: The average size of a replacement knee for women  in the US is #5  but our Ethiopian friends were smalls. Dr. Barnett did five #1's in one week!   In fact, we had to send for more small sizes from the US and our recent visitors brought them while Dr. Barnett was here. 
[ois skin="Blog Post Share"]