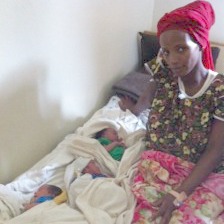 One in 729,000.  That is the odds of having quadruplets naturally – without the aid of fertility medicines.  And for this young Ethiopian lady, it happened 5 days ago.  With no prenatal care, and no knowledge of the multiple babies she was carrying, she made the trek from her rural home to the local health center.  There she gave birth to four babies, one of whom died soon after birth.
She was advised to seek further care at a hospital, and found her way to us.  The mother herself is being treated with antibiotics for a suspected uterine infection, but she is expected to make a full recovery.  The three surviving kids are doing well.  Two of them have a mild omphalitis (an infection of the umbilical cord stump) and are being treated with IV antibiotics.  They are expected to do well.
The three celebrated the Ethiopian New Year yesterday on their fourth day of life.  The new family is the talk of the hospital as we ring in the New Year.  A multiple gestation pregnancy is high-risk in any country, but especially here where over 90% of the women have no access to prenatal care.  Though we mourn the loss of one of the babies, we praise God for the miracle of a healthy mom and three healthy infants.