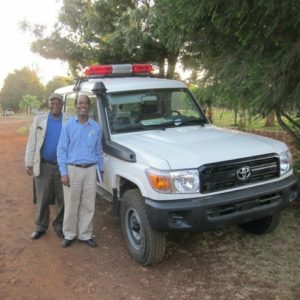 A few months ago, we posted the project for an ambulance and the need.  Well, God answered our prayers, and provided the funds and now, the ambulance!
Just today, the new Landcruiser ambulance was driven down from Addis and on to our hospital grounds by our own chief administrator, Ato Desalegn.  Here is Desalegn pictured with Pastor Daniel, the head of our spiritual ministries, by the new ambulance.  He even fired up the siren as he pulled on campus to let everyone know.
There's a lot of excitement here around our newest addition.  In Ethiopia, there are no municipal-backed EMS systems.  So having an ambulance is really key for hospitals.  It will allow us to transfer and go pick up sick patients.   From time to time, we have had really sick patients who required a specialized operation or procedure only available in Addis Ababa.  Before, we had no way to get them there, and some of these patients died.  Now, we will be able to take them in our new ambulance.
An ambulance really legitimizes us in the eyes of the people of this area too.  People know they will be cared for here, and if for some reason we need to transfer them, now we can!
Thanks to so many of you who helped us reach this goal.  We thank God for you!