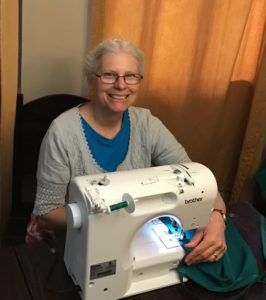 The van is closed, the goodbyes are said.  Our volunteers drive off to the airport to return to their homes with stories to tell.
Soddo Christian Hospital has many visitors coming and going but we celebrate each one.
We have had people from all parts of the  United States, Canada, Norway, Sweden, the Netherlands, Germany, Korea and Australia. They come with all kinds of skills: doctors, OB nurses, carpenters, plumbers, electricians, welders,ICU nurses, seamstresses, surgeons, counselors, worship teams, handymen, disciple makers, prayer warriors, nannies!
Each one blesses this hospital so we praise and thank God for how He has provided us with help.
If you are interested, let us know. God can use you.  Would you consider a visit?  visit@soddo.org
THANK YOU NEW AND FORMER FRIENDS FOR SACRIFICING TO COME HERE TO HELP US IN THIS MINISTRY.
This is Nancy Green from Iowa.  She repaired many sewing machines as well as sewed for the hospital and WRAPS ministry. She tackled problems because " I just love to stick with a challenge until it is solved."