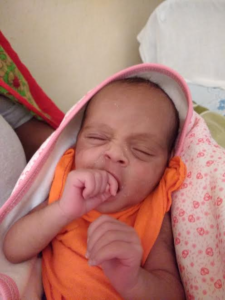 Our hospital has a growing pediatric and neonatal service. We just opened our new Neonatal ICU (NICU) 5 months ago and have seen some great results, not just from physical, but from a spiritual perspective.
Our hospital has a three pronged vision statement:
to provide excellent medical care,
to make disciples
and to share the gospel.
In 2017, the chaplains at SCH shared the gospel with 28,714 patients and visitors, resulting in 218 people placing their faith in Jesus Christ.
In our Neonatal Intensive Care Unit (NICU), we have come to understand the importance of a child's name. In Ethiopia, a child's name often represents the conditions surrounding their birth. Sometimes a child is named "The Rain" or "Patience," and other times it has deeper meaning.
About one month ago, in our NICU we admitted a very sick three-week-old neonate named Bochore. His family were members of the traditional Ethiopian Orthodox Church. He had very severe pneumonia. He had started treatment elsewhere, but didn't see improvement. In fact at our hospital it was a very difficult battle, because despite our first line and second line treatments, Bochore did not improve. Every day, we would pray with Bochore and his family, for the love of Christ to be evident through us and for his healing.
After nearly four weeks in our hospital on oxygen, he was finally discharged. Every day for a month, we prayed with this family. Every day for a month, we shared who Jesus is in our actions and our words. Every day, our hospital chaplains would spend extra time with this family. At the end of their stay, the child's mother and grandmother cried and cried. They had felt the love of Christ and wanted that in their lives. The mother professed Christ as her Lord and they changed the child's name. His new name was Christian.
Would you consider a gift to allow us to further expand this important department?  You can donate here