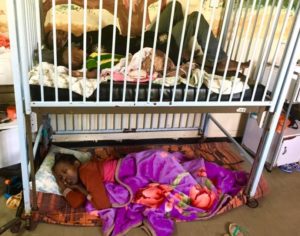 This week, I was amazed at how crowded the hospital grounds are.  I quickly learned that families stay on the property when their loved ones are hospitalized.  When all beds are filled, which is a common occurrence, some sick and injured patients stay in the yard waiting for a vacancy.  Families huddle together, sleep under a tree or under the shelter of overhangs with few complaints.  Above, is the pediatric ward, which is one large room with multiple beds.  It is not uncommon to see family members share a bed or sleep on the ground next to the hospital bed.  For those who have not been here, imagine 6 hospital beds and 6 families, sharing one large room.
Today, we took care of a 4 year old child who had fallen from a mango tree, had an open distal radius and ulna fracture with the radius coming out of the skin.  There was mud and grass on the visible end of the bone coming through the skin.  We were able to take the patient to the operating room, remove the debris and mud, reduce the fracture and pin it back into place.  Dilute bleach is used as irrigation in the operating room, and almost every patient's wounds are cleaned with dilute bleach daily while they are in the hospital.  It has proven to be extremely effective.
I am grateful to UCLA and OIC to have had the opportunity to come visit and help in Ethiopia, and look forward to another exciting week!
Would you consider a gift to our Benevolence Fund to help our poorest patients?
These notes and photos were provided by:
> Ed Cheung
> UCLA Orthopaedic Surgery