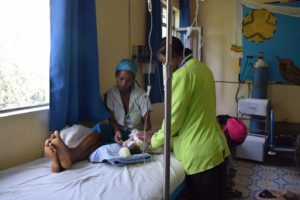 Yehone is a newborn baby at Soddo Christian Hospital. "Let It Be" is the meaning of his name, but that is an impossible task for his young mother and grandmother, both of whom anxiously await the outcome of a surgery on which they've just been debriefed. Yehone's family has traveled to Soddo from their local hospital 50 kilometers away. His grandmother explains that Yehone is the first-born child of her daughter, who is young, fatherless, and recently married. The tiny child in her arms is the prize of this family. Twenty days after his birth, Yehone's family knew that he was fatally ill, with a distended stomach and unrelenting vomiting. They sought diagnoses and treatment at the hospital nearest them, but did not have enough money to pay for the child's care. They were sent to Soddo Christian Hospital, where a Benevolence Fund will help pay for life-saving treatment they cannot afford. Yehone's family used everything they had to make it to the hospital in Soddo. Today, Yehone will undergo an operation to heal the root of his illness – an intestinal malrotation.
Dr. Michelle explains to the mother and grandmother the need for this operation, assuring them that God has already protected their child, that his life today is reason to give thanks to God, and that we must continue to entrust the child's care to God through prayer. Ayellech, a hospital chaplain, is in the room to pray for the baby and family. The women are both timid, they are afraid of the surgery and do not believe their precious one will make it through; "He is so small," what if he does not wake up? The gnawing, clenching feeling of fear is evident on the women's faces. Ayellech places her hands on the child and his mother, and prays powerfully for the baby's life. When the prayer finishes, she does not stand up and walk away. She holds the mother's shoulder and asks, "Why did you not say 'Amen?'" Do you not know that God is good? The women look worried, but they know that this is their hope, that they must put their trust in the doctors here to save their child; it is through the faith and evangelism of the staff that they are led instead to
put their faith in God. "God is the only physician who can save this baby," Dr. Yates explains before she prays for the family, "So we must pray."
"God has given us an opportunity to share the gospel here…to people who come from all corners and all tribes of Ethiopia," explains Tesfaye, another hospital chaplain, "I cannot share the gospel more anywhere else."
Soddo Christian Hospital provides more than physical healing, but it is only through the lifesaving care of the doctors that this opportunity arises.
When Yehone's family arrived at Soddo, they had spent everything they had on transportation to the hospital. They had nothing left to pay for treatment.
The Benevolence Fund is currently very short of funds.  We used $113,000 to fund Benevolence Patients in 2016, wiping out our reserves.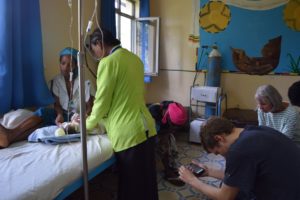 For Yehone and his family, the hospital's reserve Benevolence Fund (which has been set aside for pregnant mothers) is being re-allocated to cover the surgery and medicine costs for Yehone, in addition to food for his mother and grandmother. Because of this resource, Yehone and his family will remain in the hospital while he undergoes treatment; they will be in the care of the hospital's doctors, nurses, and chaplains, who will continue to share with them the love of Christ, and the hope of new life given by Jesus.
There is now an immense need to replenish the hospital's Benevolence Fund, which in the past has been lifesaving to hundreds of patients – thanks to the generosity of donors. This is a major resource to provide opportunities for the staff to serve the poor; it is the means through which Soddo Christian Hospital shares the gospel with those who both need and desire it the most.
With your donation, Soddo Christian Hospital can continue to provide this much-needed care and hope to the neediest in Ethiopia. Will you help?
Yehone's surgery was successful.  He is now recovering!  Thank you God!
You can give online at: